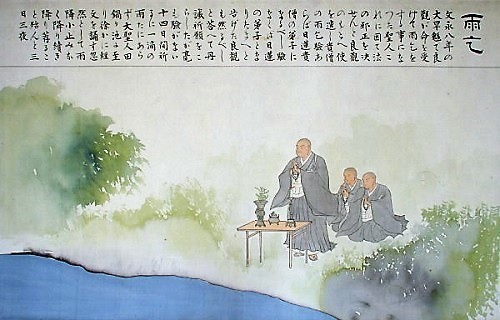 From the Biography of Nichiren Daishonin
The Kamakura suburbs.
Under the strong ultraviolet rays, a party of Nichiren go ahead through the country road. They walked the road of the slightly elevated foot of a mountain. A crowd follows them.
There was the pond surrounded by forests.
The party of members spread a straw mat in the edge of pond.
Hokibo and others carried an incense burner and a sutra reading desk and began preparations.
A crowd was disgusted.
"Do they pray in such a remote place?".
"In addition, are they only slight number of this believers?".
Shijo Kingo quiets audience at the rearmost place.
"Everybody, prayer of the priest Nichiren begin. Please be quiet!".
Kingo talks gently for the townsfolk and the farmer unusually.
Nichiren took one piece of board out of a chest slowly and wrote a prayer sentence by the writing brush quickly.
And he put a board into the pond slowly and put hands together and chanted "Nam-myoho-renge-kyo, Nam-myoho-renge-kyo, Nam-myoho-renge-kyo" and title three times powerfully.
After this, the religious service that read the chapter of means of the second and the chapter of Buddha's life span of the sixteenth aloud has begun.
Yasumori and Yoritsuna of the clammy foreheads watched the sky reproachfully in the hall of the Kamakura regent.
The flower of the garden is about to die.
Ryoukan walked around the room busily in Gokurakuji. Ryoukan cannot touch the dainty food of the low dining table either. He cannot do anything for oneself tormented by uneasiness.
Sutra-chanting of Nichiren continues.
"'Buddha always holds this thought. How can I do if I let all creatures walk the supreme road and let them gain the existence of Buddha early?'. Nam-myoho-renge-kyo, Nam-myoho-renge-kyo, Nam-myoho-renge-kyo…".
Hokibo Nikko beats a drum. Nichiren has begun to chant a title to this sound.
Nichiren had given disciples a strict order beforehand, said "Does not stop the chanting until it rains".
Time to fight to a finish came. All disciples of Nichiren, and Kingo and Jonin and Jomyo of the strong believers follow Nichiren with a desperate chanting.
A crowd watched them for a while, but the scorching sky does not have the change.
The person who wave a neck and return appeared.
"Cannot be that it rains. I have stopped being able to believe in anybody".
At that time, one drop of liquid fell to a big leaf of the side.
Life of Nichiren. Vol. 1. Contents