Letter to Lord Ota Kingo. (The Annual Lecture on the Doctrines of the Great Teacher Tiantai).

November 28, 1269. 48 years old.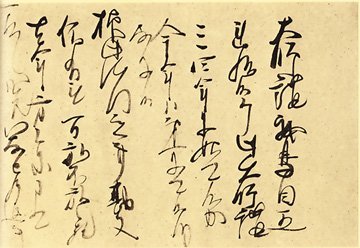 Possession by Nakayama Hokekyo ji.
For the lecture of Teacher Tiantai, I received from you the five strings of the coin. This lecture of Teacher Tiantai started three or four years ago, but this year it is good!
This doctrine may spread or may not spread, but in the first place, it depends on the correctness or incorrectness of what I have predicted in my warning documents. Though I wrote to a number of persons last year there were no replies either positive or even negative. But when I wrote to them in November of this year, some wrote back. Moreover, it is possible that the sovereign also has read this writing. From what I have said is so outrageous, I know that one of two punishments, either banishment or death sentence, is absolutely certain, and hence I think it is strange that nothing has happened to me so far. The claim of Nichiren may be the best and ultimate reason. And surely the prediction of the calamity of revolt in the sutra either will prove correct. I hear that the temple on Mount Hiei is experiencing turmoil greater than before anything. However, there may be more deeper reasons for it.
Because China and Korai have already become adherents of the Zen and the Nembutsu sect, the gods to protect them have left away from there, then they have been conquered by the Mongols and forced to submit. In our nation as well, because these erroneous doctrines have spread and people make light of and disregard the Tendai Lotus sect, the temple on Mount Hiei can enjoy neither peace nor security. Because it has become a nation where disciples turn against their teacher, it seems to me that it will be conquered without a doubt.
I have been fortunate enough to be born as a human being and also have been able to avoid meeting a teacher of misleading doctrines. I have been exiled for the sake of the Lotus Sutra. However, the fact that I do not face the death sentence is unwilling. Having anticipated that this sort of thing would no doubt occur, I have thus far strived and have written to a number of persons by strong words.
Already I am nearly fifty. I cannot live long. Since in any case my body will in the end be abandoned aimlessly into the wilderness, I wish to give my life to the sole teachings of the Lotus Sutra, to follow in the footsteps of the Boy Snow Mountains and the Bodhisattva Medicine King, and I wish that own name will be written into the Lotus Sutra and Nirvana sutra in the future just like the King Sen'yo and the King of Virtue. Nam-Myoho-Renge-Kyo.
November 28.   Nichiren.
Reply.
I have been reading No. 5 of Makasikan since January 1 and praying for "This world is peaceful and we will be born in a good place the next world" . The beginning and end of the Makasikan you sent me were missing, but I had it repaired. I need a lot of books (Makasikan, etc.) for the lecture of Teacher Tiantai, so please prepare them.