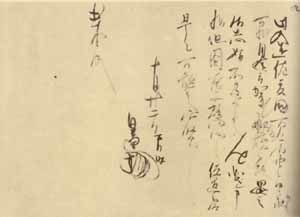 'The Letter from Teradomari'. Genuine writing; Nakayama Hokekyoji Temple possesses this in complete condition.
The departure to Sado was decided at October 10.
A cold wintry wind wrapped the land of Sagami.
Winter comes.
Nichiren prepared for the departure while a soldier surrounded him. Several disciples including Hokibo and servants were permitted to attend him.
Nichiren bade good-bye to Shijo Kingo and Toki Jonin and others. The reencounter is most difficult.
The boy Kumao, lady Nichimyo, and others were in tears.
Nichiren tells as like persuading them.
"Everybody. Must not grieve. We are in the time of difficulty now, but people surely will strive with one another to chant Nam-myoho-renge-kyo in the future. We only await time. Please keep the Lotus Sutra with an unbending faiths power until that time comes".
Nichiren thought about the country of hometown Awa and watched the far-off east sky.
"How will teacher Dozen and O'ama think this?".
A government official of the Shogunate were coming to that Seichoji Temple in Awa. For conveying Sado banishment of Nichiren.
Dozenbo, Gijobo, Jokenbo and O'ama met with him.
Everybody was surprised equally.
Dozenbo muttered timidly in a tremulous voice.
"Nichiren. Banishment to Sado...".
Jokenbo was furious.
"I can't take your word for it. Why? What did priest Nichiren do?".
The government official chided Jokenbo who is excited.
"You should not say a presumptuous thing very much. I am saying with kindness. We are arresting the believers of the Lotus Sutra in Kamakura. All of you should be careful, too. Especially, we hear that nun O'ama is a strong supporter of Nichiren".
O'ama who was called had a forced smile, and she spoke trembling.
"Is Nichiren? Hum, it is the name I do not know".
Gijobo and others doubted of her. What does O'ama say? But she remained still cool.
"Who is a person called Nichiren? In the meantime, that person seems for me to be an irrelevant one".
"Nun O'ama!".
The surrounding person pressed O'aman, but she was there as if nothing was amiss.
A party of Nichiren went the road of Musashi to the north.
That road was from Musashi to Ueno, and passing through Shinano, and continued to Echigo country.
The mountains of Fuji gradually fade away from eyes of Nichiren.
A party of him goes the road where the powdery snow flies. Putting on a bamboo hat and receiving north wind to the front, they advanced.
It was a trip of difficulties.
Nichiren has already become age 50. Winter strictness touches his body approaching old age.
The party of him entered Shinano through Ueno.
A local crowd flocked to the road of Shinano Zenkoji Temple. They booed the enemy of Nembutsu passing the very front.
A crowd is going to grab Nichiren, but Hokibo becomes the shield and prevents them. The soldiers attending on them shook off a crowd, too, and advanced.
They crossed the mountain of Shinano and approached Echigo.
Dusk approaches. The wind barked threateningly.
They arrived at the top of the mountain pass.
Echigo plains were silver-white all, and the vast Sea of Japan were below their eyes.
This was the sea which both Nichiren and Hokibo Nikko watched for the first time. A wave undulates unlike the sea of calm Awa Kominato that Nichiren looked at in a childhood and is gruff.
One of the soldiers pointed him to the island that floated far away.
" That is the Sado Island, isn't that?".
Nichiren writes down in a letter addressed to Toki Jonin as follows about this traveling.
"On the tenth day of this October, we started from the volost of Echi in Aikoh District of the Sagami country. Along the way we stopped at Kumegawa in the Musashi country and, after traveling for twelve days, arrived at the harbor of Teradomari in Echigo country. From here we are going to cross the sea to Sado country, but now the winds are unfavorable, so I do not know when we will depart. The hardships of along the way were worse than having imagined and were more than writing down. I will leave you to surmise how I endured. But because I have been prepared for such difficulties from the outset, there is no point in complaining about these now. I no longer say about it". 'Letter from Teradomari'.
Continued to 36 'Conviction as the Root Buddha in the latter days of the Law'.