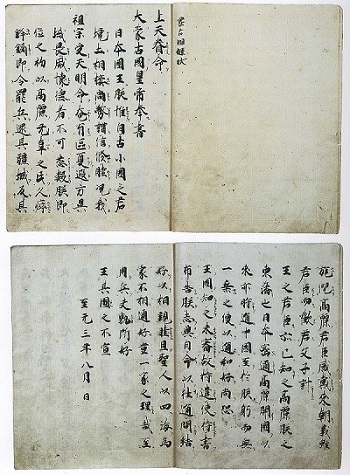 'The Personal Letter of Mongolia', the manuscript copy by Shosyu. Included in "the Book to Pray for Eliminating the Enemies Interfering with the Country". It is placed in the Sonsyoin of the Todaiji Temple.
On the other hand, the great incident had happened in far west Kyushu Hakata gulf of Kamakura for New Year holidays of the same year.
A big boat of Mongolia visited the Japanese shore from Mainland China.
A military commander of dignified Mongolia being accompanied with the government official of Korai [Goryeo, dynasty of Korea] was riding in a boat.
The Gulf of Hakata was near to the Korean Peninsula, and there was the trade with south Soong, too, and a large number of merchant ships came and went. Korai and Chinese ships mixed, and an especially big Mongolia ship arrived at the lively gulf. The people farmer gathered, watched the members who got off the ship and each whispered.
The messenger of Mongolia landed and went to Dazaifu.
Mongolians go to the building of extensive Dazaifu.
They sat down on the chair which was provided on the floor, met the Japanese government official.
A person from Mongolia gave a speech slowly.
"We came as a messenger of the Emperor Kublai of the great Mongolia country. Notify to the king of Japanese".
He read the personal letter aloud.
"Cherished by the god of heaven, the Great Mongol emperor sends this letter to the Japanese king. The sovereigns of small countries, sharing borders with each other, have for a long time been concerned to communicate with each other and become friendly. Especially since my ancestor had governed by heaven's order, innumerable countries from afar have been afraid of our dignity and respected our virtue. When I just succeeded to the throne, because people of Korai were tired from war, I stopped war and made peace and let an old man and child return to the hometown. Korai came to thank me, did ceremonies of paying tribute to us. Although this relation is the lord and vassal, we are on familiar terms like father and son to be pleased together. We think that the chief vassal of your country and its vassals already know this, too. Korai is the tributary country of east. Japan often sent the envoy to China since the founding of a country close against Korai. However, since my ascending the throne, you had never dispatched it and has not had a close relationship each other. We are afraid that the kingdom is yet to know this. Hence, I send the envoy with my letter particularly expressing my wishes. Enter into friendly relations with each other and we ought to be on good terms from now on. And the saint assumes the world a house. We think all countries belong to one family. What do not come into intimate relations cannot be one family. Nobody would wish to use arms. To Japanese king, understand it well".
August, 1266.
Life of Nichiren. Vol. 1. Contents