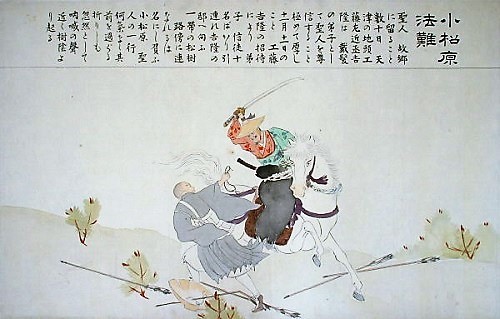 From the Biography of Nichiren Daishonin
Nichiren dropped in at the Seichoji Temple, to which he once belonged, after this and did farewell speech to Dozenbo and others.
Kyoninbo and Hokibo of the disciples have a Japanese halberd for defense. It was a reencounter after a long absence, but Kagenobu Tojo of the land steward is keeping a watch. They were not able to stay too long.
"You've been so helpful".
Nichiren wanted to talk to Dozenbo as far as the time permitted it. He is the person who supported from 12 age as a substitute for a parent. However, Dozenbo has not waked up to the faiths of the Lotus Sutra. He gained born timidity to the body and was not able to throw away Nembutsu.
"No, I was relieved to see your looking healthy. I also wanted to talk a little. Where do you go to from now?".
I have been invited from Yositaka Kudo of feudal lord of Awa Amatsu. I am going to go there today".
Kudo is the feudal lord of Awa Country. He had become a strong believer with Shijo Kingo eight years ago.
Jokenbo who was a senior disciple said uneasiness.
"Please be careful on the road. Kagenobu seems to follow you. This information came up just now".
Kagenobu Tojo, the land steward of Awa, was going to wreak his long-standing resentment against Nichiren.
Nichiren is coming to Awa. Nichiren's fate was at the mercy of Kagenobu. He leaves a lasting regret if he missed this opportunity. He has never been forgetting the bitterness that lost by a fight for territory. Nichiren is an enemy of the land steward and is the enemy of Nembutsu. He was not able to keep Nichiren alive.
Nichiren smiled to Dozenbo before departure.
 "I'm fully aware that there would be the great persecution".

 A party of Nichiren went toward a residence of Yoshitaka Kudoof Awa Aamatsu on November 11 in the Bu'nei first year, 1264.
 Sunset shines in the road of Komatsubara.The big rock spreads out aside of the road.
 While the party of Nichiren watches the ocean of the Pacific to a mountain and the right to the left, they advance.
 The servant with baggage, and disciples of Kyoninbo and others, accompanied them.
 The residence of Yoshitaka Kudo is close at hand.
 They were about to be relieved that nothing happened.
 Mounted samurai appeared at this time from their rear suddenly.
 The group of Nembutsu who had the halberd followed them.
Land steward Kagenobu screamed.
"Today is the last day of Nichiren. Must not fail to avenge!".
Believers of Nembutsu answer.
"That chap is an enemy of tathagata Amida and we not let him alive!".
Kagenobu pulled a sword and charged at Nichiren as like an anger wave. Time to pay off an old grudge came. A blade sword reflected in the sunset and shined.
Nichiren turned around for the hoofbeat of the horse which resounded,but is slightly late, a blade of Kagenobu was about to cut him. Nichiren leaned back, but the right side of his forehead was cut 5 inches, blood gushed. It is a profuse bleeding.
Kagenobu on the horse gloated over his rival's wound.
Kyoninbo, Nichiro and Hokibo of the disciple defended, but they have been surrounded.
On this time, Kyoninbo shouted to the servant.
"The residence of Lord Kudo is very near. Inform him early!".
Kyoninbo swings a sword recklessly and tears a wall of the conspirators of Kagenobu.
The servant got away from there and went to the residence of Yoshitaka.
Each other's swords raise a spark and clash intensely. The arrow flew from Kagenobu side, too.
Nichiren also fought back with a stick desperately, but the victory and defeat has been expected.