Japanese version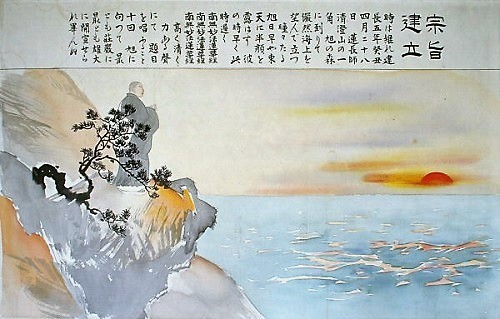 From
Biography of Nichiren Daishōnin
Rencho arrived at Kominato of Awa in the hometown.
He feels nostalgic about the smell of the tide of sea.
Rencho walks the slope of the mountain.
He saw there was the Seichoji Temple uphill.
There were Buddhist priests of the child. Probably they would get tired of the cleaning of the door front, because they forced the leaf which they collected each other.
Rencho called to them smilingly.
"Hey, you must not quarrel."
Boys suspected a priest to call to intimately, but noticed it before long.
"Possibly, are you Mr. Renchō?"
When Rencho nods, boys run in a hurry to the main hall of the temple.
He entered the precincts of temple.
His parents, Dozenbo, Jokenbo, Gijobo, O'ama meet him.
Rencho greeted them with a broad smile.
"I , Rencho, just have returned from the Enryakuji Temple."

Umegiku of mother is already filled with tears and was going to call to a child, but words fail her. Dozenbo put hands together seeing the figure of the smart and manly Rencho unintentionally.Nun O'ama smiled like seeing the growth of her child. Jokenbo and Gijobo of the senior disciple looked at Rencho who has grown up and become really big, with dazzling eyes. And boys are looking from the back of adults with interest.
Night has advanced, and a banquet began.
A boy hits the hand drum.
Rencho sat down at the head of the table, and Dozenbo and O'ama sat down on his both sides. Enchibo, Jokenbo, Gijobo and other priests of Seichoji temple lined up on the left side and Mikuni Tayu of father, Umegiku of mother and believers of the Seichoji lined up on the right side. Everybody talks with a smile in admiration that Rencho grew up magnificently.
Mikuni Tayu was proud of praise for Rencho, and there was the feeling embarrassed, too. Umegiku was just glad that Rencho came back to the Seichoji safely.
On the other hand, Rencho was thinking about the tomorrow's first sermon with the eyes which occasionally gazed into afar.
The next morning, the precincts of temple were still dark.
Dozenbo looked in the room of Rencho so that he shares a religious service of the morning, but he cannot see Rencho.
He asked a boy monk.
"Where did Rencho go to?"
"Yes, he already said that he went to the Kasaga forest and went out."
There was the hillside which could look around the Pacific.
Kasaga forest was going to greet morning, but it is still dark.
There was a sea of the large Pacific large just in front of Rencho.
The eastern sky is lightening.
Light sparkles beyond the horizon subtly.
It was the morning of 28th in April, 1253. The sun which did not change during several billions of years shined now and rose.

Rencho chants it with a vibrant voice to the universe.
"Nam-myoho-renge-kyo, Nam-myoho-renge-kyo, Nam-myoho-renge-kyo."
Life of Nichiren. Vol. 1. Contents