Japanese version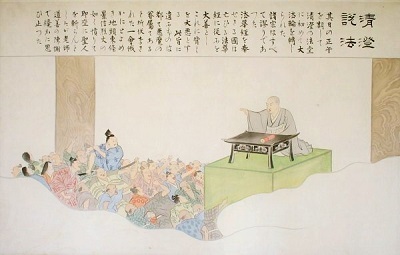 From
Biography of Nichiren Daishōnin
Any people regardless of age or sex goes up the approach to the Seichōji temple in the morning.
A passing old woman doubted and asked them.
"Are there some kind of gatherings?"
"There is sermon from now on."
"Hum!"
"The Buddhist priest called Renchō came home from Mt. Hiei-zan. We listen to a story him today,"
An old woman remembered it.
"Is it Renchō? You're right. There was surely him here. He was an innocent child, but did it become so excellent yet?"
"So, I am looking forward to seeing that priest Renchō will talk about Nembutsu."
The woman whom there was aside butts in.
"No, priest Renchō is Zen sect. The Zen sect is popular among samurai. It is the world of the samurai now. Renchō should be shrewd in the fashion."
An old woman has begun to be enthusiastic suddenly.
"I go, too. I want to hear the teaching of the Singon. It is decided the holiest teaching is Shingon in this Japan. Shingon is because a noble priest gathers. Oh, it is a pleasure."
The samurai who heard this conversation approached and said.
"As for you, a thought is light. Priest Renchō intends to put up the body in Religious Precept sect. They make a bridge and give a sick person almsgiving. There is not the noble person as a priest of the Religious Precept sect."
People pass their side by a brisk walk.
The samurai was upset.
"This is not the time to talk such things."
They all went up the slope.
The private Buddha statue hall of the Seichōji temple was a small building.
Audience gathered by twos and threes.
There is a small Buddha statue in the central depths, and parents, Ōama,the priest of Dōzenbō and others are waiting in front of it.
All were bright, but only the Dōzenbō was uneasy for some reason. He does not get rid of born timidity. Does he feel uneasy?
On the other hand, Enchibō and Dōgibō sat with an arrogant face. If it was a mistake, they asked immediately and intended to shame sermon of Renchō.
Renchō appeared, and the hall subsided.
He sits in the center and welcomes it lightly and take a deep breath and say.
"I, Renchō returned from Mt. Hiei-zan. Thank you very much for longtime nurture. I give thanks on this occasion. By the way, this time I change the name of Renchō and introduce myself as Nichiren."
"Nichiren."
All members rustle lightly.
"As the result of having learned in the temples such as Mt. Hiei-zan, Mt.Koya-san, Onjōji temple, I knew that the truth was merely one. I express it."
Everybody accepts breath.
"Nam-myoho-renge-kyo."
Audience was dumbfounded, but Nichiren continues it.
"This is the law that Buddha left. Master Buddha came into Nirvana and more than two thousand years passed. The only way to survive in this Latter Days of the Law is only Nam-myoho- renge-kyo."
There was the powerful sermon person who had not looked so far, the people noticed it.
Enchibō ridicules with Dōgibō reflectively.
Dōzenbō of the teacher drains a cold sweat.
The smile of Ōama disappeared.
The parents keep opening a mouth.
"I Nichiren will spread this Nam-myoho-renge-kyo. I will grant this title to the mouth of all people of Japan. However, it is a fact that there is bad Law to thrive in the world. There is not the future of all creatures if we do not exterminate this."
Dōzenbō was upset, and words were given unintentionally.
"Bad Law. Is it that there is such a thing in the world?"
Nichiren nods.
"There are four. One is Nembutsu sect of Buddhism. The great villain method who they preach Amida Buddha ignoring Shakyamuni Buddha , and destroys Buddha Law. The person believing this will fall into the hell of incessant suffering."
Audience screamed. An old woman covers her ears. Man and woman edges back. Enchibō poured eyes of the anger.
"It is Zen school next. This sect is Buddha law and is not Buddha law. This is the heretical doctrine which came off from a text of a sutra. The person believing this is behavior of the heavenly devil."
"Foolish thing!"
The roar happened in the whole building. But Nichiren is not shaken.
"It is the Shingon sect next. It is the false law that they engage the Dainichi Buddha who is not Shakyamuni Buddha. A country dies out if they pray for this."
The audience ran away from the temple individually.
"It is the Religious Precept sect last. There are priests brandishing the religious precepts that are the lowest teaching of Buddha. They are traitors. I talked about an outline as things mentioned above."
There was none of the audience.
Dōzenbō grieved.
"Renchō, no Nichiren, you say what a terrible thing. Do you antagonize Japan?"
Mother umegiku puts hands together and rubs it.
"Stop only slandering other sects. It is a terrible thing that Nembusu is called Hell."
Father Mikuni frowned knit his brows in anger, too.
"What! Though I sent you on ascetic practices with much effort, to say such a thing. Where did you have such a thought? "
Nichiren was calm.
"Father, mother, teacher. I decided it. I will live with the Lotus Sutra. Nobody can break this oath."
Mother burst into tears.
Jōkenbō of the senior disciple entered among them here.
"Well, you should be satisfied. It looks like Nichiren was ready outstanding."
Gijōbō of the same senior fellow disciple supports it.
"I want to hear the present story in detail, too. Then you start to decide whether it is good, or it is bad."
Ōama helped them taking the opportunity, too.
"I was really surprised, too, but I am the same as a foster parent of Nichiren from old days. I am a friend."
Nichiren put hands together.
"Words, I do not forget it throughout the life."
Teacher Dōzenbō lost heart and went out.
Enchibō of the old priest stood in the way there.
"Well really, Dōzenbō, you had a problem disciple. I look forward to how you take this responsibility."
Dōzenbō was upset and left to escape.
Life of Nichiren Part 1 contents